If you notice your Apple Watch Ultra sometimes stops halfway through a workout or leaves you with missing fitness data, try these fixes.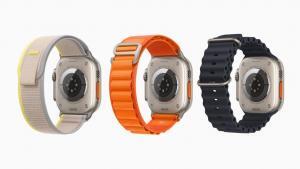 The Apple Watch Ultra is a great device for tracking your workouts and activity. However, there are occasions when it pauses in the middle of an activity, meaning that it doesn't track your workout correctly. If you've ever encountered this annoying issue, here are some fixes you can try.
1. Check if Auto Pause Feature Is Enabled and Switch This Off
The most obvious reason your Apple Watch Ultra pauses is the Auto Pause function kicking in. This feature causes your watch to automatically pause if you stop moving during your workouts (except for running workouts that are controlled by a connected treadmill).
Switch this off and manually control when you pause your workout from the Watch app on your iPhone. On the My Watch tab, scroll down to Workouts. Find the Auto Pause switch and toggle it off.
2. Make Sure Your Apple Watch Ultra Software Is Updated
Apple regularly releases watchOS updates to fix known bugs and introduce new settings and features. Your Apple Watch Ultra might not be recording your workout data accurately because your watch is running outdated software.
To update your Apple Watch, open the Watch app on your iPhone and tap General -> Software Update. Tap Download and Install if a watchOS update is available. Check out this article if you have any issues updating your Apple Watch.
3. Restart Your Apple Watch Ultra
It sounds like a cliché, but simply restarting your Apple Watch can fix a minor software issue your watch could be experiencing.
Press and hold the side button on your Apple Watch until the power icon appears at the upper-right corner of the screen.
Tap the Power icon.
Swipe the power icon from left to right to shut down your Apple Watch.
Wait 30–60 seconds, then press and hold the side button again until the Apple logo appears on the screen.
4. Check and Disable Wrist Detection Settings
The Wrist Detection feature on your Apple Watch Ultra locks your watch with a passcode if you're not wearing it. While this is a brilliant way to keep your personal data secure, it can cause your watch to pause your workout if it senses that you've taken it off your wrist.
Open the Settings app on your Apple Watch.
Tap Passcode.
Turn Wrist Detection off.
Because you'll lose a lot of functionality, it's best turn this feature off only while working out.
5. Check Bluetooth And Wi-Fi On Your iPhone & Apple Watch
Your iPhone and Apple Watch use Bluetooth and Wi-Fi to communicate with each other when they're paired. It's possible your Apple Watch Ultra won't record Workout Data because of a Bluetooth or Wi-Fi connectivity issue.
First, open Settings on your iPhone and tap Bluetooth. Make sure the switch next to Bluetooth is on, and that it says Connected next to your Apple Watch under My Devices.
Next, tap back to the main page of iPhone Settings, then tap Wi-Fi. Make sure the switch next to Wi-Fi is on, and that a checkmark appears next to the name of your Wi-Fi network.
Next, open Settings on your Apple Watch by pressing the Digital Crown, then tapping the Settings app icon. Tap Bluetooth, then scroll down and make sure the switch next to Bluetooth is on.
Tap back to the main page of Settings, then tap Wi-Fi. Make sure the switch next to Wi-Fi is on, and that your Wi-Fi network appears directly below the switch.
6. Check the Battery Level of Your Apple Watch Ultra
If your Apple Watch Ultra is low on battery, this may cause your workout to pause. Check that your battery level is sufficient before you exercise.
To check your Apple Watch Ultra battery's charge level, swipe up on the watch face to open Control Center and find the battery percentage.
7. Check Your Apple Watch Ultra Strap Fits Correctly
If your Apple Watch Ultra is too loose on your wrist, it may be unable to track your heart rate properly, which can easily cause it to pause your workout. For best results, the back of your Apple Watch needs skin contact for features like Wrist Detect, the Taptic Engine, and the electrical and optical heart sensors. Wearing your Apple Watch with the right fit — not too tight, not too loose, and with room for your skin to breathe — keeps you comfortable and lets the sensors do their jobs.
You might want to tighten your Apple Watch band for workouts, then loosen it a bit when you're finished.
8. Check Your Clothing Isn't Accidentally Interfering With Your Apple Watch Ultra
The sensors will work only if you wear your Apple Watch on the top of your wrist. With that in mind, check that nothing is interfering with your Apple Watch Ultra's contact with your wrist. If you work out in long-sleeved clothing, this may be causing the issue.
9. Contact Apple Support
If your Apple Watch still isn't recording your workout activities, it's time to reach out to Apple support for further help. At this point, it's more likely than not that your Apple Watch Ultra is faulty and the sensors can't detect your movement accurately.
Make Sure Your Apple Watch Ultra Accurately Records All Your Workout Activity
You've fixed the problem and your Apple Watch Ultra is recording your workout activities again. Make sure to share this article on social media to teach your friends and family what to do when their Apple Watch Ultra won't record workout data! Leave a comment below if you have any other questions about your Apple Watch or iPhone.