If your iPhone Camera is not working after iOS 17 update, work your way through these steps to fix the problem.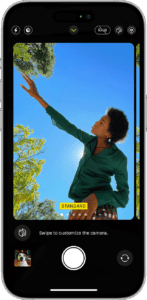 iOS 17 offers great features such as camera level, to help you take perfectly angled photos. However, some iPhone users are facing problems, such as the black screen in the Camera app. This is especially annoying since the moment may have already passed, and you can't capture it again — it has definitely happened to me a few times.
There's no need to panic if your iPhone camera is not working after updating to iOS 17. It is either a software issue or a hardware issue, and there are various troubleshooting steps you can try to fix the problem.
QUICK FIX
If your iPhone camera is not working after iOS 17 update, start with simple fixes, such as restarting the camera app, updating iOS, rebooting your iPhone, and more. More extreme troubleshooting steps include resetting iPhone settings, factory resetting the whole phone, checking for hardware issues, and reaching out to Apple Support.
Switch between the front and rear cameras
If your iPhone camera is not working after iOS 17 update, it's likely the app has not loaded properly. One of the quickest ways to resolve this issue is to switch between the rear and front-facing selfie camera. This will force the app to load again, hopefully fixing the problem you are experiencing.
The icon to press to flip between cameras is the two circular arrows next to the shutter button. Tap it a few times and see if that solves your problem.
Close and restart the camera app
If switching between cameras doesn't do the trick, try force quitting out of the Camera app and relaunching it. This is extremely easy to do. Swipe up from the bottom of the screen until you see smaller versions of your open apps. Then swipe up on the camera app window. This will close down the camera. To open the camera app again, tap the camera icon on your home screen and see if it's working properly.
Make sure VoiceOver is turned off
For some reason, VoiceOver seems to cause some glitches with the Camera app in iOS 17, so if you have it on, disable it and see if it solves your problem.
Head over to Settings > Accessibility > VoiceOver. DisableVoiceOver if it's active.
Restart your iPhone
If the above troubleshooting steps didn't fixed iPhone camera not working after iOS 17 update issue, try restarting your device. . A good reboot of the hardware fixes a myriad of issues and could be what your phone needs. After all, a reboot refreshes the device's memory and clears caches.
If you are using iPhone XR or later, restart the device by simultaneously holding the volume down button and the power button. If you are using iPhone SE (second generation) or newer, press and hold the power button. When the slide to power off option appears on-screen, swipe right. Wait 15 to 20 seconds before powering on your iPhone.
Update iOS
If you're running an older version of iOS 17, you may be experiencing Camera problem that may be patched in newer versions of the OS. To check if you are running the latest version of iOS 17, head over to Settings > General > Software Update. If an update is available, tap download and install.
Reset all iPhone settings
If you've got this far with no luck, it's time to reset your iPhone back to factory settings. This does not wipe your content, such as your photos and music. It merely resets your network settings, location and privacy settings, etc.
Head over to Setting > General > Transfer or Reset iPhone. Tap Reset, Then hit Reset All Settings.
Factory reset the iPhone
If default factory settings didn't fix iPhone camera not working after iOS 17 update issue, the next troubleshooting step would be to erase all data and reset the phone — start with a clean slate, basically.
However, this is last resort step and should only be used when everything else has failed. Before you erase all content and settings, make sure you have a viable backup to avoid loosing your data.
Head over to Settings > General > Transfer or Reset iPhone > Erase All Content & Settings. 
Contact Apple Support
If you have tried all the troubleshooting steps above and still have iOS 17 Camera problem, then it may be an issue with your hardware. The only way to fix that is to contact Apple Support or take your iPhone to an authorized repair center to see what they can do.
If you still have a valid warranty on your iPhone, you may even be able to get your iPhone replaced if the camera problem is not fixable.