When you can't send or receive multimedia messages, or MMS, on your iPhone 14 Pro, there ar a few fixes you can try before reaching out to your carrier.
One of the most incredible things about the world we live in today is how interconnected we all are. Communication has become as simple as typing a quick message and pressing send. However, there can be a few hiccups along the way. One common issue that iPhone 14 Pro users might encounter is MMS (Multimedia Messaging Service) not working properly. Fear not! In this comprehensive guide, I'll explain why your iPhone won't send MMS and how to diagnose and fix the problem for good.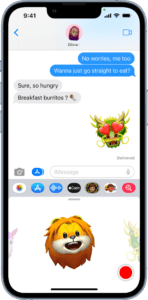 What is MMS?
MMS or Multimedia Messaging Service is a feature that lets you send pictures, videos, and audio files to other mobile devices. It's a step up from the standard SMS, allowing you to share more than just text. But what happens when this feature stops working on your brand new iPhone 14 Pro? Let's find out!
Note: information in this article apply to iPhone 14, iPhone 14 Plus, iPhone 14 Pro and iPhone 14 Pro Max.
Common MMS Issues on iPhone 14 Pro
Before we get into fixing MMS on iPhone 14 Pro, it's essential to identify common issues that users face:
Unable to send or receive MMS messages on iPhone 14 Pro.
MMS messages are delayed.
Pictures or videos are of poor quality.
Why is MMS not working on iPhone 14 Pro?
Before we delve into the solutions, it's also important to understand the possible reasons why MMS is not working on your iPhone 14 Pro:
Network issues: Sometimes, the problem might not be with your device, but with the mobile network. Network congestion or outages can interrupt MMS services.
Incorrect settings: If MMS settings are not properly configured, you might face issues with sending or receiving MMS.
iOS update issues: At times, updating iOS can lead to some features not working correctly, including MMS.
Carrier settings: Outdated carrier settings can also cause problems with MMS.
With that out of the way, let's dive into the fixes for the MMS not working on your iPhone 14 Pro!
How to fix MMS Not working on iPhone 14 Pro issue
Solution 1: Check Your Network Connection
First things first, you need to check if your device is connected to a cellular network. MMS, unlike iMessage, uses your cellular data, not Wi-Fi. Here's how to do this:
Swipe down from the top right corner of the screen to open the Control Center.
Check if the cellular data icon is on (it should be green). If not, tap on it to turn it on.
If you're in an area with poor network coverage, that could be causing the issue. Try moving to a location with better coverage and see if that helps.
Solution 2: Check Your MMS Messaging Settings
The next step is to ensure that MMS Messaging is enabled on your iPhone 14 Pro.
Open Settings.
Scroll down and tap on Messages.
Scroll down to the SMS/MMS section, and ensure that MMS Messaging is turned on.
If this setting was off, turning it on might fix the problem.
Solution 3: Update Your Carrier Settings
Carrier settings updates can improve your iPhone 14 Pro ability to connect to your carrier's network, which can resolve MMS issues.
A pop-up typically appears on the screen when a carrier settings update is available. If you see the pop-up on your iPhone, tap Update.
You can manually check for a carrier settings update by following the steps below:
Open Settings.
Tap on General.
Tap on About.
If there's an update available, you'll see an option to update your carrier settings.
Solution 4: Update iOS
Occasionally, the MMS not working on iPhone 14 Pro issue might be due to a bug in the operating system, which might be fixed in a newer update. Here's how to update your iOS:
Open Settings.
Tap on General.
Tap on Software Update.
If there's an update available, tap on Download and Install.
Remember to backup your iPhone before you perform the update, just in case anything goes wrong.
Solution 5: Reset Network Settings
If MMS is still not working on your iPhone 14 Pro, try resetting your network settings. However, be warned that this will erase all your saved Wi-Fi networks, Bluetooth connections, and VPN settings.
Open Settings.
Tap on General.
Scroll down and tap on Transfer or Reset iPhone.
Tap on Reset.
Tap on Reset Network Settings and confirm the action.
Your iPhone 14 Pro will restart, and once it turns back on, try sending an MMS to see if the issue has been resolved.
Solution 6: Contact Your Carrier
If you've tried all the above steps and are still unable to send or receive MMS on your iPhone 14 Pro, it might be time to reach out to your carrier. The problem might be on their end, and they might have solutions that are specific to their network.
Sometimes, customer account issues and technical outages can cause MMS messages not to be delivered, and the only way to know for sure is to call and ask. Be sure to let them know about all the steps you've tried so far.
The quickest way to find out what phone number to call is to search Google for "_your wireless carrier (Verizon, AT&T, etc.) _wireless customer support number". For example, if you search "Verizon wireless customer support number" on google, you'll find the number at the top of the search results.
Final Thoughts
That's it! By now, you should be well equipped to solve any MMS issues that you are experiencing on your iPhone 14 Pro. Remember, the key is patience and process of elimination. Hopefully, by following these steps, you're back to sharing multimedia messages with friends, family, and colleagues.
If you found this guide helpful, feel free to share it with others.