Your Apple Watch Ultra will not turn on and you're looking for help. It's a problem that can be easy or difficult to fix, depending on the cause. In this article, I'll help you determine the reason why your Apple Watch Ultra won't turn on and show you how to fix your Apple Watch Ultra when it isn't turning on.
If your Apple Watch Ultra won't turn on, make sure you're switching it on the right way first.
You can fix an Apple Watch Ultra that won't turn on by restarting it or checking for charging or hardware issues.
If all else fails, send it for repairs.
It can be frustrating if your Apple Watch Ultra won't turn on — especially if you're not tech-savvy. It might seem like there could be a million things wrong, and who knows where to start? Is it even fixable?
In general, you can narrow it down to one of three key issues: a software glitch, a charging malfunction, or a serious hardware problem.
Here's how to figure out why your Apple Watch Ultra won't turn on and how to fix it.
Why won't my Apple Watch Ultra turn on?
The Apple Watch is out of battery
The most obvious reason your Apple Watch Ultra won't turn on is that the battery is dead. Luckily, this is the easiest solution to fix. The Apple Watch Ultra takes 45 minutes to charge from 0—80%.
Your charger isn't working properly
If you left your Apple Watch Ultra to charge up and came back to a device that still won't turn on, your charger may be the culprit. Faulty third-party chargers or even a worn-out one from Apple are worth replacing. There is also the possibility that the outlet you are plugging into isn't supplying power.
Your Apple Watch Ultra is frozen
Apple Watch Ultra can sometimes freeze or get stuck on a black screen. Often, this is the result of an outdated version of watchOS or a glitchy app.
How to turn on an Apple Watch Ultra
You need to make sure you're turning on your Apple Watch Ultra the right way before trying any of the troubleshooting steps mentioned below.
By the offset chance this is the issue, here's how to turn on an Apple Watch Ultra:
Press and hold the Side button until you see the Apple logo on the screen.
If you find yourself facing a stubbornly black screen, read below to learn why your Apple Watch Ultra won't turn on and what you can do about it.
How To Fix An Apple Watch Ultra That Won't Turn On
Once you're sure that you can switch on your Apple Watch Ultra properly, you can try to get to the bottom of why it's not turning on. If (fingers crossed) you're facing a minor issue, one of the solutions below will likely help you get your watch turned back on.
Charge your battery
If your device's battery is dead, you need to charge it. Insert your charging cable into a USB port, or USB power adapter plugged into a power outlet. Then place the back of your Apple Watch against the concave side of the charger. You will feel magnets align your device in place.
Check your charger and outlet
You will know your Apple Watch Ultra is charging when a lightning bolt appears on the screen. If this does not occur after a few moments, you may have an issue with your power supply. Check your outlet with an alternative device. Confirm that your charging block and cable are plugged in and your watch is aligned correctly. If the outlet is working and both the charging pack and device are clear of debris, you may need to replace your Apple Watch charger.
If your Apple Watch Ultra died and isn't turning back on, it's possible that there's a problem with your charging cable. Charging cables are susceptible to fraying, so closely inspect it for any abnormalities.
If you can, try borrowing a cable from a friend and see if your Apple Watch will turn back on.
Sometimes Apple Watch Ultra won't charge and turn back on depending on the charger you plug it into. There have been documented examples of Apple Watch charging when plugged into a computer, but not a wall charger.
Try using multiple different chargers and see if your Apple Watch Ultra begins to turn back on.
Check to see if you can Hard Reset the Watch
If your Apple Watch Ultra won't turn on, the simplest remedy is to hard reset the device and see if it will turn on.
In most cases, an Apple Watch Ultra won't turn on because its software crashed. This can make it appear like your Apple Watch Ultra isn't turning on, when in fact it was really on the entire time!
Hard resetting your Apple Watch Ultra will force it to quickly turn off and back on.
To hard reset the Apple Watch Ultra, simultaneously press and hold the Digital Crown and side button. Do this for at least 10 seconds or until you see the Apple logo. Your watch may have frozen and could require juice once it powers up.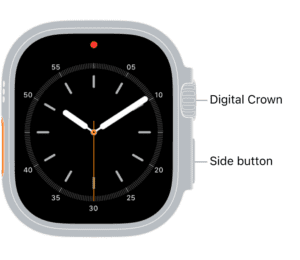 Check For Physical Damage
If your Apple Watch Ultra won't respond to a hard reset and doesn't appear to be charging, the number of potential issues has narrowed, probably signaling that it's a hardware issue. This isn't good news, because it suggests you might have a serious issue. Some of the most likely issues include:
Drop damage. If you've dropped the watch, it might have damaged the screen (most likely) or internal components (less likely), preventing it from working.
Component failure. As reliable as Apple Watch Ultra is, it's always possible that it can fail due to a manufacturing defect. It's rare, but it can happen.
Do a visual inspection of the outside of your Apple Watch — is there any damage? If it's minor, Apple may ignore it and replace your watch under warranty.
Repair Options For When An Apple Watch Ultra Won't Turn On
If you recently dropped your Apple Watch Ultra, it probably isn't turning on because of a hardware issue. You can take your watch into your local Apple Store, just make sure to schedule a Genius Bar appointment first. Apple also provides support online and through the mail.
If you're under warranty and there's no physical damage, Apple will probably repair the Watch free of charge.
Apple Watch Ultra Won't Turn On: Fixed!
By this point, you've determined why your Apple Watch Ultra won't turn on and the next steps to take if your watch needs to be repaired. If it helped you, please share it with your friends, especially because so many other articles out there are filled with inaccurate information on this subject. I'm interested to hear about your experience with troubleshooting and how you fixed your watch in the comments section below.