iMessage not working on your iPhone 14 can be frustrating or even panic-inducing, given that some people reserve iMessage for their most important communications. When you encounter the error, there are a few reasons why it might be happening — and a few steps you can try to get things on track.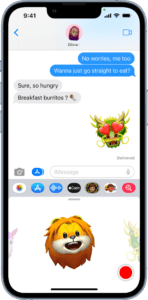 iMessage allows users to send and receive text messages, photos, videos, voice recordings, and other types of files using an internet connection. iMessage is built into the Messages app on Apple devices such as iPhones, iPads, Macs, and Apple Watches, and it uses Apple's servers to send and receive messages instead of traditional SMS or MMS messages. iMessage offers various features such as end-to-end encryption, read receipts, message effects, reactions, and the ability to send money using Apple Pay. iMessage also allows users to create group chats, send multimedia messages, and make audio or video calls using FaceTime. But although it is generally a very robust platform with extremely little downtime, the possibility is still there for it to occasionally splutter and collapse. If iMessage is not working on your iPhone 14, what do you do? Switch to Skype? Hardly. Here are some tips to get iMessage up and running again.
Note: information in this article apply to iPhone 14, iPhone 14 Plus, iPhone 14 Pro and iPhone 14 Pro Max.
How to fix iMessage not working on iPhone 14
1. Close and reopen Messages App
This is a simple, yet very functional troubleshooting tip that works most of the time. Often, simply closing and reopening Messages might fix any local issues.
Swipe up from the bottom of the screen to the center of the screen. Hold your finger in the center of the screen until the app switcher opens.
Next, swipe Messages up and off the top of the screen. You'll know Messages is closed when it no longer appears in the app switcher.
Reopen Messages to see if it's working again. If it isn't, keep reading!
2. Make Sure iMessage Is Configured Correctly
Another common reason why iMessage is not working on your iPhone 14 is because of an issue with your iMessage settings. Make sure that iMessage is turned on by going to Settings > Messages and toggling the switch next to iMessage.
Even though you have iMessage enabled, you may not have it enabled for a specific number. This is easy to check. Tap on Send & Receive. Here you'll see the phone numbers and email addresses you can associate with iMessage. Make sure all the numbers and email addresses you want to use are enabled.
3. Check your internet connection
Is iMessage even the problem? It just might be your internet that's letting you down. Try testing other apps or websites to see if they work. You can do something as simple as launching Safari and searching for anything. If this works, it means your internet is OK. Are other devices working? Check if you have any. If nothing else works, you might be off the grid.
If you're using Wi-Fi, head to Settings > Wi-Fi to make sure the switch next to Wi-Fi is on and that a checkmark appears next to the name of your Wi-Fi network. If you're using data, go to Settings > Cellular and make sure the switch next to Cellular Data is on.
4. Check Your Date & Time Settings
Incorrect Date & Time settings can cause a variety of problems on your iPhone, as they can make your iPhone think it's in the past, future, or a completely different time zone. Head to Settings > General > Date & Time. Make sure your iPhone is set to the correct Time Zone, and that the date and time are correct.
We recommend turning on the switch next to Set Automatically if it isn't already. This will help reduce the possibility of an issue with your iPhone's Date & Time settings in the future.
5. Update The Messages App
It's possible iMessage isn't working on your iPhone 14 because you're using an outdated version of the app. App updates often fix bugs and sometimes introduce new features. Since Messages is a native iOS app, it can only be updated by an iOS update.
Open Settings and tap General > Software Update. Tap Download and Install or Install Now if an iOS update is available.
6. Restart iMessage and Your iPhone
It may sound silly, but this is seriously the most common troubleshooting tip, and it seems to work most times. Restarting your iPhone 14 and the iMessage can help resolve any temporary issues that may be causing iMessage not to work.
To restart iMessage on your iPhone, go to Settings > Messages and turn off iMessage. Wait for a few seconds and then turn it back on again. This should restart iMessage and resolve any temporary issues.
To restart your iPhone, press and hold the Side and either of the volume buttons button until you see the "slide to power off" option. Slide the bar to turn off your iPhone. Wait for a few seconds and then press and hold the Side button to turn your iPhone back on.
7. Is iMessage down?
When iMessage is not working on iPhone 14, there's a chance it's not working for anybody! This is not common, but Apple's services go down occasionally. Thankfully, there are a couple of ways to check if this is the case.
You can head over to the Apple system Status page. This page will tell you whether iMessage service is operational. Make sure the dot next to iMessage is green. If it's not green, that may be the reason why iMessage is not working on your iPhone 14.
Unfortunately, if there are issues with Apple's systems, there's not much you can do other than wait it out. Apple knows there is a problem and they're working on a solution.
Alternatively, you can try a website like DownDetector.com. The site collects user reports to identify service outages. There's even a map to see if the issue is local.
8. Reset Network Settings to fix iMessage not working on iPhone 14
No solution as yet? I guess a hidden network glitch could be preventing iMessage from working. In this case, the right way to go ahead is to reset network settings on your iPhone 14. You can do this by going to Settings > General > Transfer or Reset iPhone > Reset > Reset Network Settings.
Once this is done, there is almost a certainty that iMessage will start working.
9. Contact Apple Support
As the very last resort, you can consider contacting Apple Support. Maybe they have some advice to offer? Perhaps a recent update has done a number of changes on your iPhone 14 and you need to roll it back? Apple Support will be able to tell you if iMessage is not working at that moment.
Resolve iMessage not working on iPhone 14
There you have it! Hopefully, iMessage is now working on your iPhone 14, and you're chatting happily with your family and friends. Next time iMessage is not working on your iPhone 14, you'll know how to fix the problem. Feel free to ask us any other questions down below in the comments section!