Wondering how to record a phone call on iPhone 14 Pro Max? Here are some free methods to record phone conversations on iPhone 14 Pro Max.
Note: information in this article apply to iPhone 14, iPhone 14 Plus, iPhone 14 Pro and iPhone 14 Pro Max.
You want to record a call on your iPhone 14 Pro Max. Maybe it's an interview for work, a customer service call, or a conversation with a loved one.
Things get tricky when you want to record a call while using an iPhone. (And it's not quite as easy on Android anymore, but certainly possible.)
Recording phone calls on an iPhone 14 Pro Max can be a challenge. Apple doesn't allow third-party apps to access the microphone and the integrated Phone app directly. However, you can still record phone calls on your iPhone 14 Pro Max using some workarounds.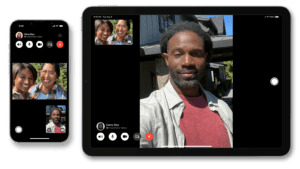 Secretly recording a call on your iPhone 14 Pro Max could lead to troublesome legal consequences. If you're going to record a phone call on your iPhone, be sure to tell the person on the other end of the line and gain their consent to being recorded. Some US states—like New York and even the feds—only require one-party consent, which means you can record without telling the other person or persons. In California, all parties must know they're being recorded—even if the recorder is out of state. Under federal law, one-party consent is okay, but only if you're part of the conversation; otherwise that's considered eavesdropping.
None of these laws are as cut and dried as they seem (Nevada's one-party consent has been viewed by the courts as an all-party consent). Play it safe and get permission on any recorded call. "Forgiveness" could get litigious and costly, and even lead to criminal charges. If you're nervous, don't record at all. The folks at Rev did a deep-dive into the laws to help drive that advice home.
How to Record Calls on iPhone 14 Pro Max Without Apps
This is probably the quickest and easiest way to record a phone call on your iPhone 14 Pro Max for free, without paying for apps. You'll need another device with a microphone that can record audio (like another iPhone, iPad, laptop, Android phone, or portable recording device) to make it work.
On iPhone and iPad, the built-in recorder app is called Voice Memos. Other good third-party voice recorder apps include: Rev Voice Recorder, Otter, and Alice. These third-party apps also offer transcription. Usually for a price.
Call your contact and hit the Speaker icon. Notify the other person that you'll record the phone call on your iPhone.
Once you gain consent, open a voice-recorder app on the second device and hit record.
Place your iPhone close to the microphone of the recording device. Stay physically close to the recording device if you want your own audio recorded as well.
End the call.
Save your recording.
The drawback to this method is the quality of the recording can be sketchy. Additionally, people don't like talking on speaker phone.
How to Record Incoming Calls on iPhone 14 Pro Max Using Google Voice
Google Voice is a free VoIP (Voice over Internet Protocol) calling service available in the US and Canada. It offers you a free phone number, a voicemail inbox, and the ability to make calls both domestically (free) and internationally (as per the Google Voice calling rates). The ability to record phone calls is one of the perks of Google Voice.
Before you can record phone calls on your iPhone14 Pro Max using Google Voice, though, you'll need to first set up the service. Ensure that you're not setting up or using a Voice for Google Workspace account at your company or educational institution. Otherwise, the recording feature won't be available to you.
go to Settings > Calls > Incoming call options.
You have the option in settings for calls to be answered either via the app itself (check off iOS Device) or by having the call forwarded to your mobile number. Either way, you are not technically doing the recording on your iPhone. It's all done on Google's servers, which handle the Voice over IP (VoIP) connection.
When you answer calls made to your Google Voice number, tap 4 on the number pad. Participants will hear a robot voice state that recording has begun—this is Google's way of keeping you legal; Alphabet Inc. wants no part of a lawsuit. To stop recording, tap 4 again or hang up. You can hit the 4 key as often as you like to start and stop recording.
Call recordings are forwarded to you via email and appear in Google Voice's list of voice mail recordings. You can generally tell the difference between voice mail messages and recorded conversations because the latter are longer, and say "Transcription not available."
How to Record Phone Calls on iPhone 14 Pro Max Using a 3-Way Call Merge App
On iPhone, recording phone calls is blocked, period. The apps that do exist to record a call—and there are quite a few—provide a workaround, but it will usually cost you.
iPhone recorder apps only work because they utilize 3-way conference calls, either incoming or outgoing. The third "caller" is a recording line, provided as a service by the app's developer. Obviously, 3-way calling is a must-have feature of your iPhone for this to work, so be sure your carrier supports it. In the US, the big three all do, but some smaller carriers do not.
A downside to these apps—they are not as simple as hitting a key on the number pad. You have to take extra steps to make the merge happen with the third number doing the recording. However, they can be activated in the middle of any normal phone call; afterwards you get easy access to recordings in the app and can play, download, share, or export them as desired.
A third-party app known as Rev Call Recorder is a great option for recording phone calls if you live in the United States and have a working US phone number. Rev Call Recorder is free to download from the App Store.
When you first launch the app, you'll need to confirm your phone number by adding it when prompted and entering the code you receive. The process is a bit complex, but fortunately, the app offers a built-in tutorial.
Once that's done, tap Start Recorded Call, then choose Outgoing Call or Incoming Call. For outgoing calls, you need to call the Rev Call Recorder service, then call the person you want to talk to. After both calls are connected, tap the Merge Calls button to begin recording.
To record incoming calls, the process is slightly different but just as simple. Once the call is complete, Rev Call Recorder will contact you when your recorded call is ready to download. Optional paid transcription services will also appear at this point.
The major advantage of Rev Call Recorder is that, unlike many other call recording services, the person you're talking to will see your phone number, rather than an unknown number.
Your calls are stored on another company's servers, though, so you probably don't want to use this service for private or sensitive matters.
Most similar apps will cost you for the recording alone and some limit recording time.
TapeACall Pro is $10.99 annually for unlimited call recording length.
Call Recorder Pro is a $9.99 one-time purchase, but offers only 300 minutes of calling credits; do an in-app purchase of credits to record after that. There's a "lite" version to try out with limited record times (60 seconds) and features.
Phone Call Recorder – ACR is "free." It trumpets that all call recordings, incoming or outgoing, even photo calls—meaning FaceTime calls—are unlimited in length. But that's only if you upgrade via in-app purchase to the pro version for $59.99.
How to Record Calls on iPhone 14 Pro Max by dialing 3-Way Call Recorder Services
You don't need an app to record calls on your iPhone 14 Pro Max. There are several paid services that let you call them directly to get the recording going before you pull in the other party. This also means you're not limited to iPhone only—they'll work with an Android phone or even a landline.
RecordiaPro has options for recording both in the US alone (starting at $29.99 for 120 minutes) or worldwide ($40 for 190 minutes). Create an account before you call, put RecordiaPro's number in your contacts, and use it when you call out or add RecordiaPro to existing calls. For $36 per year, it will provide a number you can hand out to take future calls that get auto-recorded. Transcription costs extra.
Recordator has a free 10-minute recording trial; otherwise, it costs $10 for 67 minutes to start, then costs $0.15 per minute, but there are no monthly fees, just per-minute used fees. It works much like RecordiaPro, giving you a number to set up a 3-way conference that does all the recording. It also supports the merge-call option.
How to Record Calls on iPhone 14 Pro Max Using Your Voicemail
If your iPhone 14 Pro Max has support (via your mobile carrier) for 3-way calling and Visual voice mail, you have an option for the cheapest workaround of all.
To check whether your carrier allows you to download your voicemail messages, open the Phone app on your iPhone and tap on the Voicemail tab in the bottom-right corner. If you see a list of voicemail messages appear, that's great! You can download them and keep them on your device for future playback purposes.
If you only see a Call Voicemail option, you're not so lucky. You won't be able to download voicemails. However, you may be able to save them in your carrier's audible voicemail. This means you'll have to continue calling your voicemail every time you want to play back the message.
To download these messages externally, perhaps try using the speakerphone method we discussed above to record the phone call on your iPhone 14 Pro Max. Depending again on your phone provider, you can try a similar recording method using call merging and your voicemail:
When you're in a call, wait for the Add Call button to light up, so you can add a third caller via 3-way calling.
Tell the other person to wait, click the button, and call yourself. Stay on the line and listen to your own voice mail greeting, then for the tone that indicates the recording has begun.
Tap Merge Calls. All three calls are merged—and the third one (your voice mail) is taping the other two. End the call.
Your conversation should record as a message you can retrieve from your voicemail inbox.
This isn't going to work for all carriers. On mine (AT&T), calling my own number dumped me into the audio voice mail menu and didn't record. You could always try calling the person on the other line again—you'll go directly to their voice mail, certainly. They could send you the recorded "voice mail" conversation after. However, that's not something most interview subjects want to get involved in.
It's also worth noting that carriers have a limit to how long they'll let you record a voicemail message. Test it with your phone and a friend before you trust this method.
The safer option is to do this with a third-party voice mail system like Google Voice (but the voicemail recordings are limited to 3 minutes). Ultimately, it's better to have a paid voicemail service, use the Google Voice recording option for incoming calls outlined above, or spring for the paid recorder services like Recordator. Especially if you're going to talk for a long time.
Which Method Did You Use to Record Calls on Your iPhone 14 Pro Max?
Now you have an overview of how to record a phone call on your iPhone 14 Pro Max. But keep in mind that every cell provider and iOS device functions a little differently, so you may need to try out a few recording methods until you discover which is right for you.